Interested in becoming a volunteer?
Advocates for Children CASA will be hosting 6 new volunteer training classes  in 2020!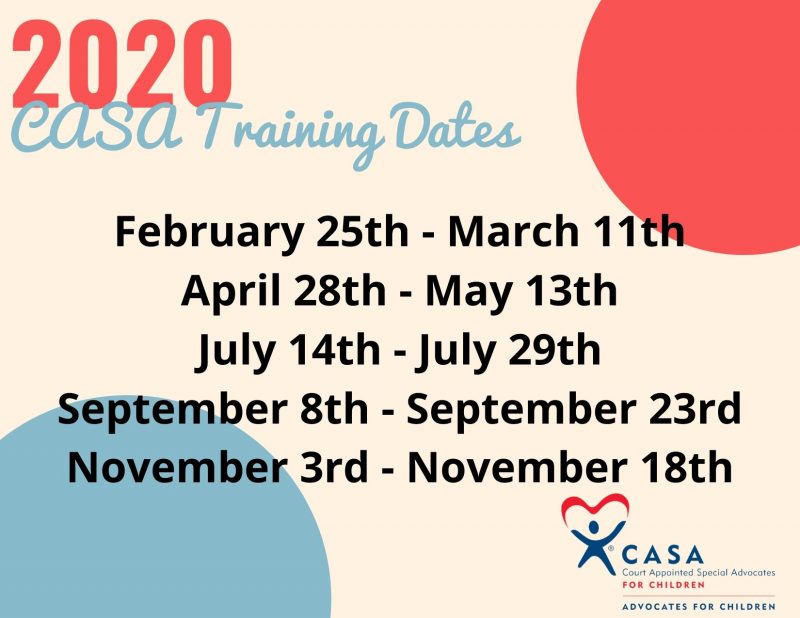 Our organization recruits, trains, and supports community volunteers who advocate for children who have open dependency & neglect cases, truancy cases, need additional education advocacy, or are an adolescent that may need some additional support.
Volunteers must complete 30 hours of training before being sworn in with the court, and appointed to a case.  Each training will have both morning and evening class availability that meet at our office in Aurora. These 3-week long training classes will equip future volunteers with all the knowledge and wisdom necessary for becoming the best Court Appointed Special Advocate they can be. The 3-week training class will culminate with all of those who completed being sworn in by a judicial officer and a celebration!
If you would like to learn more about becoming a volunteer and learn more about the training process and qualifications, please contact Training & Recruitment Manager Rachel Leins at rachel_leins@adv4children.org or 303-328-2347 to set up an informational meeting.
---
How do I get started?
Step 1: Attend a 30-45 minute informational meeting to learn more about the 4 different volunteer roles we have available, time commitment, training, etc.  We hold CASA 101's twice per month at our office located at 10855 E. Bethany Dr. Aurora, CO. 80014.  Please RSVP to Training & Recruitment Manager Rachel Leins at rachel_leins@adv4children.org if you would like to attend.
Next CASA 101's: 
Friday, March 13th at 12 pm 
Thursday, March 26th at 12 pm 
Step 2: Complete in person interview with one of our Case Coordinators.  This last about 45 minutes and takes place at our CASA Office.  We schedule interviews Monday-Friday during normal business hours, and are able to accommodate your schedule.  An online application must be completed before coming in for your interview, and will be sent out by the Training & Recruitment Manager.
Step 3

: Complete background checks.  All volunteers no matter what volunteer opportunity they're interested in must complete the following background checks:
Sterling Volunteers: Nationwide criminal background check, government watch list search, DOJ sex offender Registry, motor vehicle record (No DUI/DWAI), CBI (Colorado Bureau of Investigation), and a Social Security Search.  We ask volunteers to pay for the cost of this background check which starts around $40.00.
Colorado TRAILS: Child Abuse Database and Registry (we will cover the cost of this background check).
Step 4: Sign up for training!  Training & Recruitment Manager will send you a link to sign up for new volunteer training!
---