Volunteer
Our organization recruits, trains, and supports community volunteers. We advocate for children and youth in achieving their full potential through a variety of vounteer opportunities.
Change a child's story.
The right fit for me
As my boys were transitioning to college and moving out of the house, I knew that I wanted to get more involved with volunteering at an organization. A friend told me about her experience with CASA, and after setting up a meeting with the staff, I knew it was going to be the right fit for me. At CASA, I can see that I'm making a difference.
Their passion is so contagious
One thing that I truly appreciate about CASA is how dedicated and supportive the staff are. They are always there to help you work through a problem or if you just need to talk. It is an amazing environment where everyone is focused on the same goal, their passion is so contagious!
The greatest feeling
I always tell people to consider becoming a CASA. It's hard to put into words how fulfilling this is, how important it is, and how unbelievable the impact you have on a child's life is. It is the greatest feeling.

Dependency & Neglect CASA
Court Appointed Special Advocate (CASA) Volunteers provide the Court and other responsible persons with independent and objective information regarding the safety, permanency and wellbeing of the child(ren). CASAs learn of the opportunities for advocacy by spending time with and getting to know their child(ren).

Truancy CASA
Truancy CASA Volunteers are appointed to cases that are open due to underlying barriers that are keeping the child out of school. Truancy CASAs help to understand such barriers in order to help children achieve academic success. Truancy CASAs work closely with the school district and other professionals in order to mitigate concerns before they rise to the level of a Dependency & Neglect case.

Legacy Mentor
Legacy Project Mentors work with a young person between the ages of 13 and 23 to assist with acquiring life skills, goal setting, and resource navigation within the community. Many of the participants have been involved in the foster care system, the truancy system or the juvenile justice system.

Tutor
Tutors provide an additional resource to aid in the work being done in our other programs by supporting students in accomplishing their academic goals. Tutors assist with homework, learning concepts, and reading through virtual and/or in person contact. 

Juvenile Delinquency CASA
Juvenile delinquency CASA volunteers are appointed to cases where the youth has an open juvenile delinquency case. The juvenile justice system is intricate and complicated at times. Volunteers will focus on the youth's strengths and set actionable goals as they provide ongoing support and advocacy to help reduce recidivism.
REQUIREMENTS
Must be 21 years old

Complete 30 hours of initial training 

Commitment of 18 months

Spend time with CASA child(ren) weekly 

Write court report for each court hearing

Complete 12 hours of continuing education annually 
Step 1: Attend a 60 minute informational meeting
Attend a 60 minute informational meeting to learn more about the four different volunteer roles we have available, time commitment, training, etc. Please reach out to our Volunteer Engagement and Program Support Coordinator, Taylor Massey, at Taylor_Massey@adv4children.org to find out more information about future CASA 101's. No pressure, just a simple email to get the conversation started will do the trick!
Step 2: Complete an interview
Complete an interview with one of our team members.  This will last about an hour and takes place at our office in Parker.  We typically schedule interviews Monday-Friday during normal business hours but can make special accomodations if needed. A link for an online application will be sent to you and must be completed before coming in for your interview.
Step 3: Complete background checks
Complete background checks.  All volunteers must complete the following background checks:
Sterling Volunteers – Nationwide criminal background check, government watch list search, DOJ sex offender Registry, motor vehicle record (No DUI/DWAI), CBI (Colorado Bureau of Investigation), and a Social Security Search.  We ask volunteers to pay for the cost of this background check which starts around $40.00.
Colorado TRAILS –  Child Abuse Database and Registry (we will cover the cost of this background check).
Step 4: Sign up for training!
Sign up for training! After completing the above steps, you will be sent a link to sign up for new volunteer training.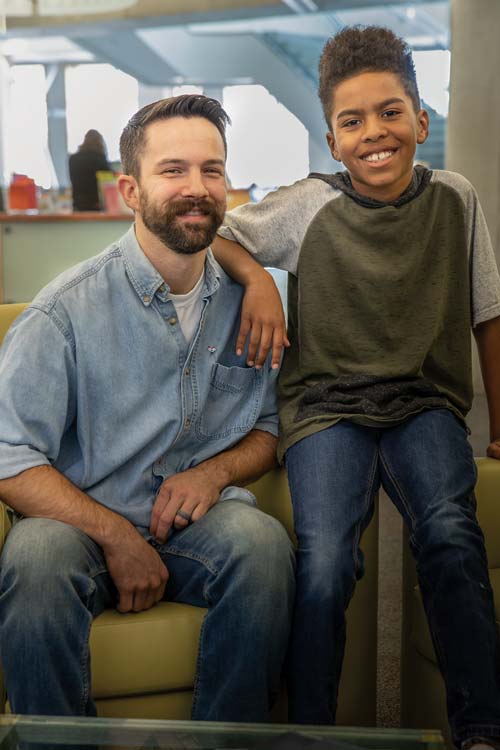 Our newsletter
Suscribe to our monthly newsletter and receive updates on the latest news and upcoming events!
Donations Help Support Our Mission
Even a donation as small as $25 can help a child in need.
16965 Pine Lane #120
Parker, CO 80134
Tel: (303) 695-1882
Fax: (303) 695-4332