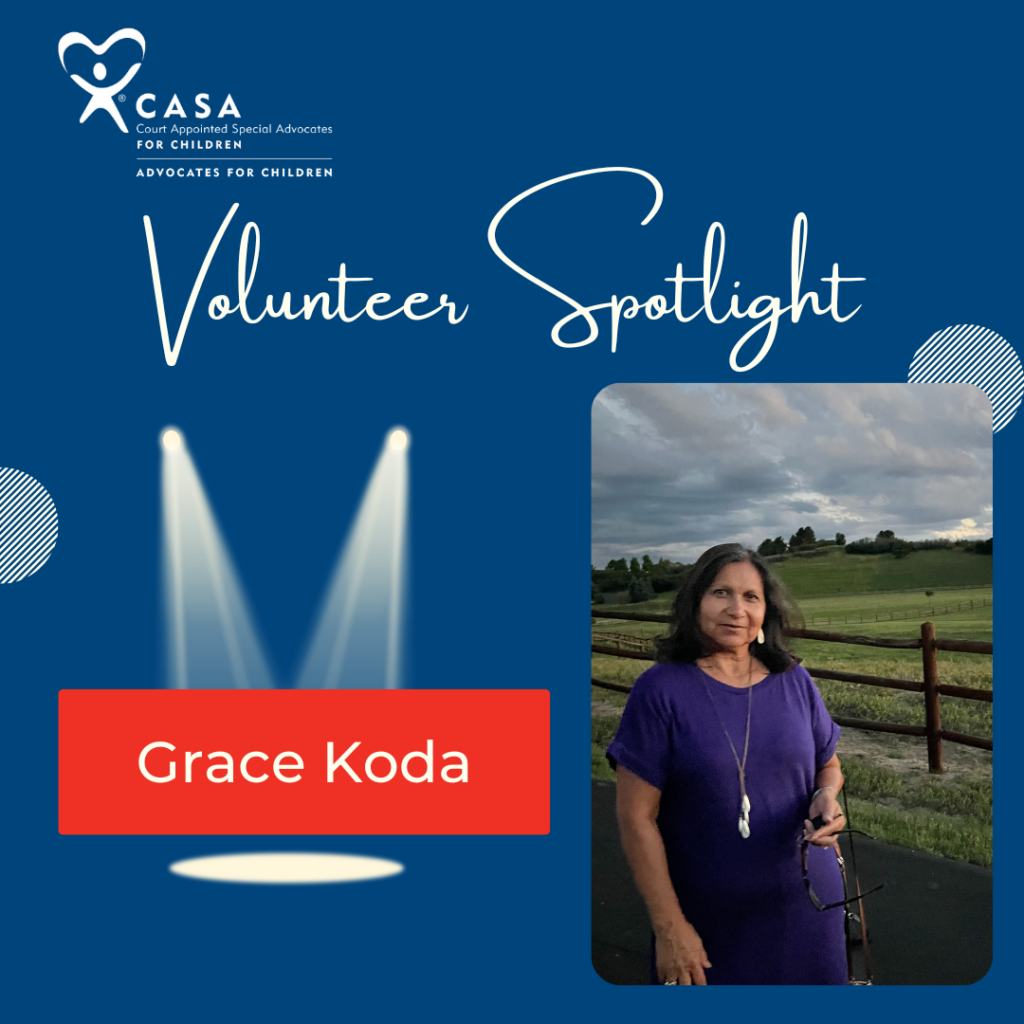 When Grace Koda pulled up to her first CASA visit, she immediately broke ground with her assigned youth. It all started with Grace's husband's love of cars.
"All of my husband's hobbies revolve around cars," Grace said with a smile and a shake of her head. Her appreciation of cars has grown with time as a result. The youth was so excited when he saw Grace's car, Grace let this interest drive her connection with the youth.
He said he wanted the same car one day. Grace told him, "Okay, you need to go to school and get a job then. Let's get to work." Together, they set goals, and Grace ensured that the youth took the driver's seat as they set off on this new journey.
Prior to becoming a CASA, Grace was a middle school teacher for 22 years. She had always known that working with young people was her calling. She connected with students on a meaningful level, and they would share things with her that they might not with others.
"I was a strict teacher, but at the same time, I had fairness and showed my students grace. It was a balance and they appreciated that," Grace said.
Throughout Grace's CASA experience, her abilities to connect with others extended beyond the youth. Grace understood the importance of getting to know the youth's parents as well, making room for them to take the passenger seat along the ride.
"Even though my role is working with the child, of course I am going to communicate with the parents. Any stress and feelings they have will transfer down to the child eventually," said Grace.
During Grace's second CASA case, she got to know the youth's mother. This parent worked two jobs, but whenever she had free time, she would tell Grace about her life and some of her obstacles. Within these natural conversations, Grace was able to identify areas of support.
"The mother was not looking for help, but she felt that I was listening to her. It wasn't a big deal, but it was just showing that I heard her and cared," said Grace.
She mentioned to Grace that she was always cold at work. Grace brought her a sweater. She expressed loneliness and uncertainty as a single parent. Through CASA, Grace found parent resources and support groups.
The youth's mother once told Grace, "I know my weaknesses and I know I am not prepared to help [the youth]. I am grateful CASA can provide her with a mentor when I am not able to do that."
Grace said, "I acknowledged her bravery for identifying areas of growth and for accepting help."
The youth's mother has since passed away, and Grace was immediately by the youth's side when she heard the news, never having lost that connection. As the youth learns to navigate the twists and turns of life without her mother, Grace sits shot gun, always along for the ride.