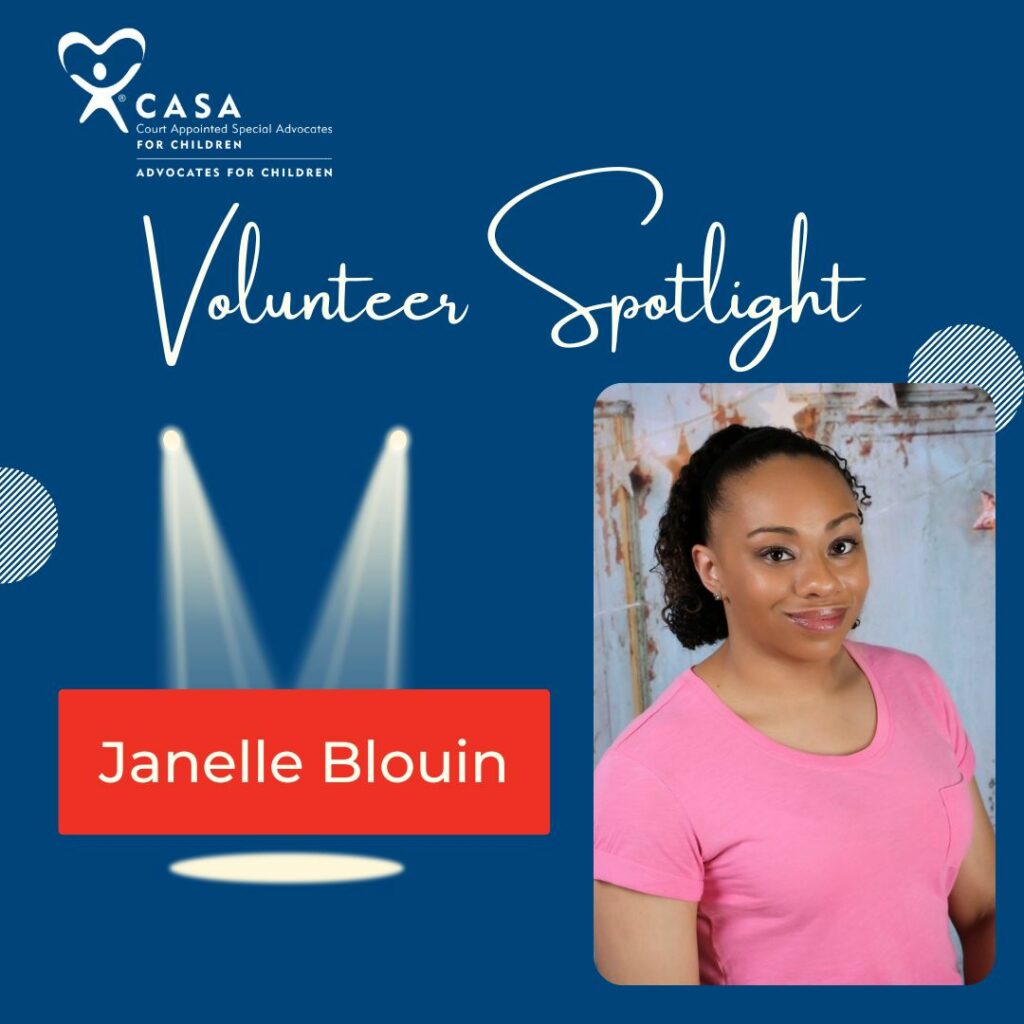 One day, a woman went to get coffee, and it changed the course of Janelle Blouin's life for the next three years.
This woman was one of Janelle's friends, and at the coffee shop, the woman learned about CASA. After sharing this information with Janelle, Janelle immediately said, "Who wouldn't want to do this work?" and began the process of signing up.
Janelle has always gravitated towards roles where advocacy stood at the forefront, and she has always dedicated her time and efforts to the betterment of those around her. Her volunteerism as a Truancy CASA began three years ago. She worked at a methadone clinic for two and half years, taking pride in supporting people who were trying to change their lives for the better. Her roots are in childcare, providing voices for the young people whose growth she nurtured each day. Even when Janelle worked in retail, she would never sell clothes that she would not buy herself!
"No matter what I am doing, I am always pouring out to others," she said.
This has remained true, even when Janelle has undergone unimaginable pain and loss of her own. As Janelle traveled down a path of darkness and grief, she found her way back to her purpose with a clearer lens. "I had discovered a newfound level of compassion and understanding," said Janelle. She recognized that the pain and hurt can be all-consuming, and people may seek any sort of relief or outlet. Thankfully, Janelle had the support and resources she needed to begin healing.
"I had to get to know myself again," said Janelle, "and this has been its own journey and project altogether." Although Janelle's career choices continued to change on this quest, her role as a CASA Volunteer remained a constant.
Janelle said she strives for full transparency with her assigned CASA youth. "I can share my hurt," Janelle said. "This youth has a big understanding of the world and as much as I have embraced her, she has embraced me back." Janelle and her assigned youth have built a relationship upon these kinds of conversations and ultimately, they have helped each other grow. They view each other as equals, as friends. "That's how cool I am," said Janelle. "I get to be her friend."
They each continue to have their ups and downs, as no day, job, or CASA visit is perfect. However, when they need to refocus, Janelle is able to turn to her assigned youth and confidently say, "We can do this!"