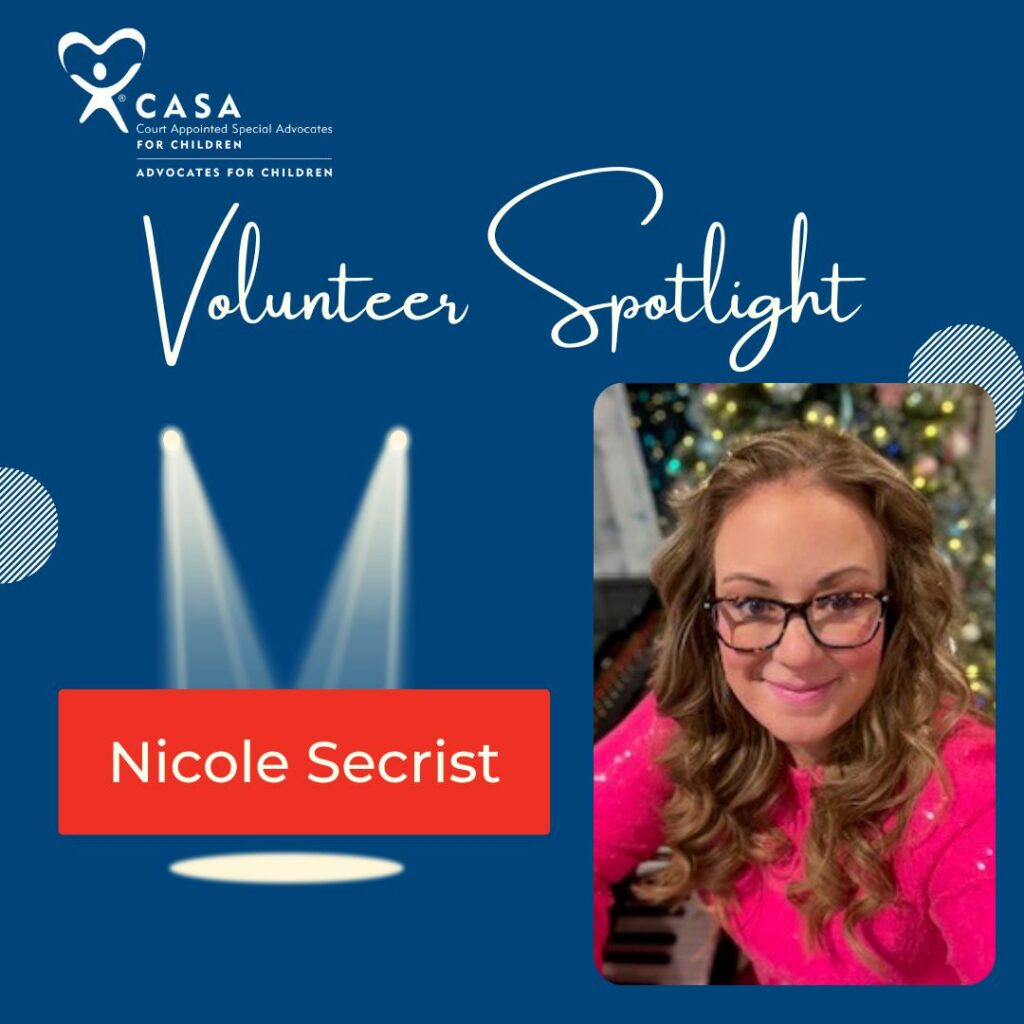 Nicole Secrist loves music. She takes lessons in piano, she sings in a choir, and she will be performing at Carnegie Hall in November of 2023. Her talent is ever-growing – she practices every day. She pours love into her art, and as of January 2020, she has someone incredibly special to share it with.
Taking on the role of a CASA seemed like a natural decision for Nicole to make three years ago. She had recently suffered a significant loss and was learning what her future would look like. After hearing about CASA in an NPR commercial, she knew it was time to sign up. However, she could not have anticipated that just as she was getting started, a pandemic would shut down the world.
Nicole and the youth continued to meet in-person during the pandemic. They navigated their visits together safely, ordering take-out, creating movie theater experiences using Nicole's iPad, and even bundling up to see each other outside in the winter months. Despite the uncertainty and fear spiraling around the world in 2020, Nicole and her assigned youth were able to find light and joy.
Later that year, Nicole learned that the youth did not know how to ride a bike. She teamed up with another CASA and together, they helped the youth overcome some of the uncertainty and fear in his own life. He was terrified to ride the bike. He was not sure if he could do it, but he proved himself wrong that day. "He didn't even realize the other CASA and I weren't holding onto the bike anymore," Nicole said with tears twinkling in her eyes. "He was so happy and proud when he realized he was riding the bike by himself. It was spectacular."
Since then, Nicole has continued to encourage this youth to pursue his interests and dreams. She understands his love for Marvel movies and takes him out for visits dressed up as Batman. She cheers him on while he speaks on panels and amplifies his voice. She set up guitar lessons for him and unveiled a passion that they now share, bringing Nicole more purpose and joy than she could have imagined.
Nicole is filled with pride listening to the youth play the first few licks of "Teen Spirit" by Nirvana. "I love this kid," she said. "It is so cool to see him connect with others over music. Sharing that love has been awesome." Nicole has come a long way from where she was three years ago. "Being a CASA is so fulfilling. It has allowed me to pour love into areas of loss. It's amazing."